Intelligent Video Search Technology
IvedaAI™ uses deep learning technology for advanced AI Video Search, similar to Google for text search. AI Video Search allows users to search for a combination of objects (100+ types) with multiple colors and quantities in both real-time and recorded videos.
Our IvedaAI appliance works with any ONVIF-compliant IP cameras and most popular VMS platforms, enabling accurate search across dozens to thousands of cameras in less than 1 second. IvedaAI products are designed to maximize efficiency, save time, and cut cost.
Our appliance includes multiple AI functions based on customer needs.
Intelligent Video Search Technology
Build your own. Choose different AI functions in one appliance.
Detect based on object types, colors, quantities, and time frame
Detect different types of objects in the same ROI
Draw multiple ROIs (region of interest) of any shape for different types of objects
Set different sensitivity levels to balance between detection speed and detection accuracy
Achieve high performance in daytime, nighttime, indoors and outdoors
Eliminate false alarms caused by irrelevant objects
Common use cases: perimeter protection, parking detection, vehicle zoning
Detect face automatically from IP cameras or user-uploaded videos/images
Detect multiple faces simultaneously in one video/images
Enable quick search for missing person across multiple cameras
Locate people within seconds from uploaded photo/video
Can detect and match multiple faces in one image
Comply with privacy laws by not saving/requiring any ID information
Common use cases: locating missing person in shopping center, locating suspects on school campus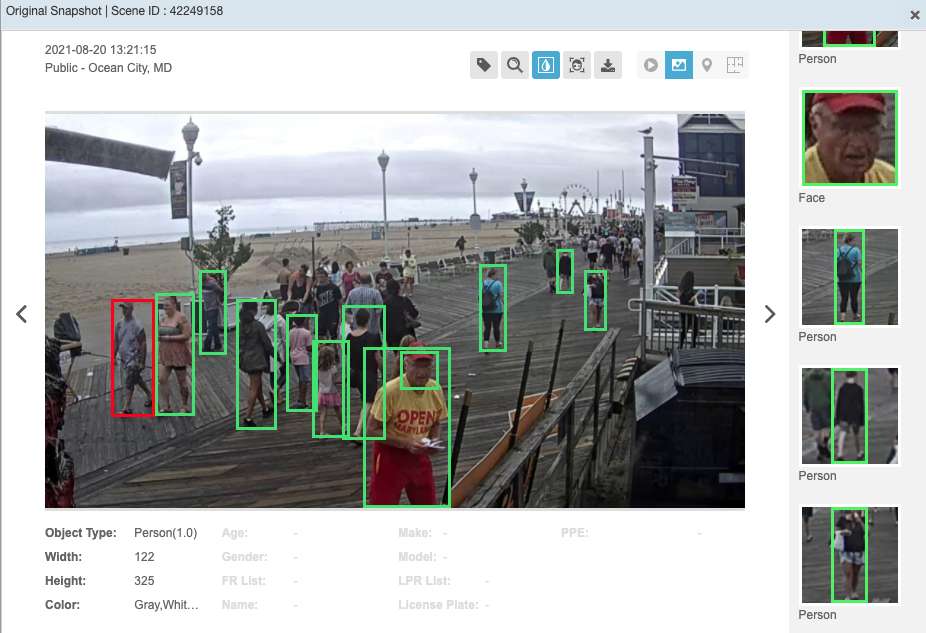 Compare an uploaded face with a pre-configured face database and display similarity levels
Detect Approximate age range and gender
Enable quick search for missing person across multiple cameras
Locate people within seconds from uploaded photo/video
Can detect and match multiple faces in one image
Comply with privacy laws by not saving/requiring any ID information
Common use cases: locating missing person in shopping center, locating suspects on school campus
License Plate Recognition
Capture and read license plates at a slight angle (~20 degrees, not completely facing cameras)
Match detected license plates automatically with saved lists
Search for partial license plate number (i.e., enter any characters in license plates to search for potential matches in the databasep
Support three modes for different applications with different resource usage:

Parking Lot
City Road
Highway

Vehicle search based on type and color
Upload multiple blacklists / whitelists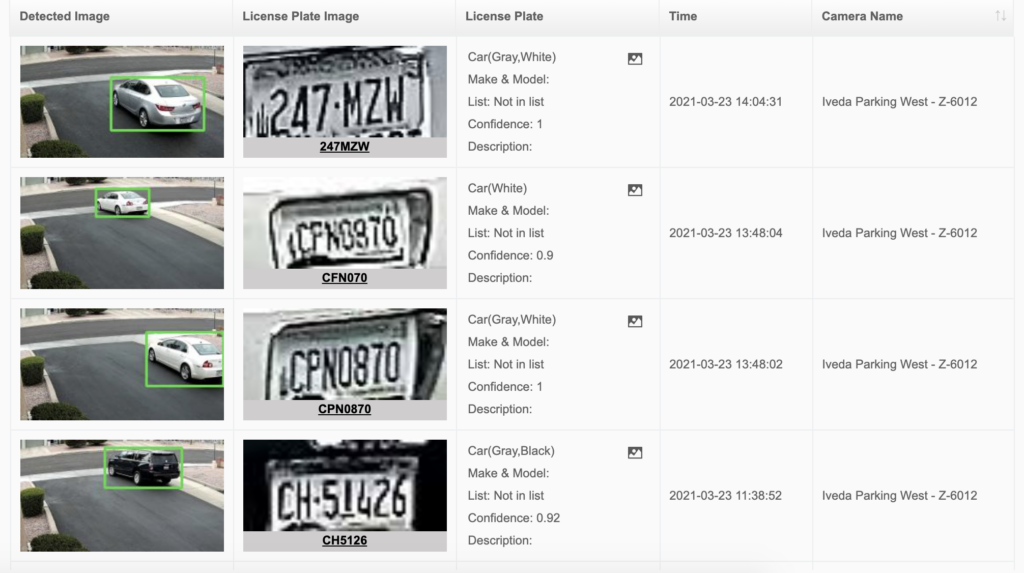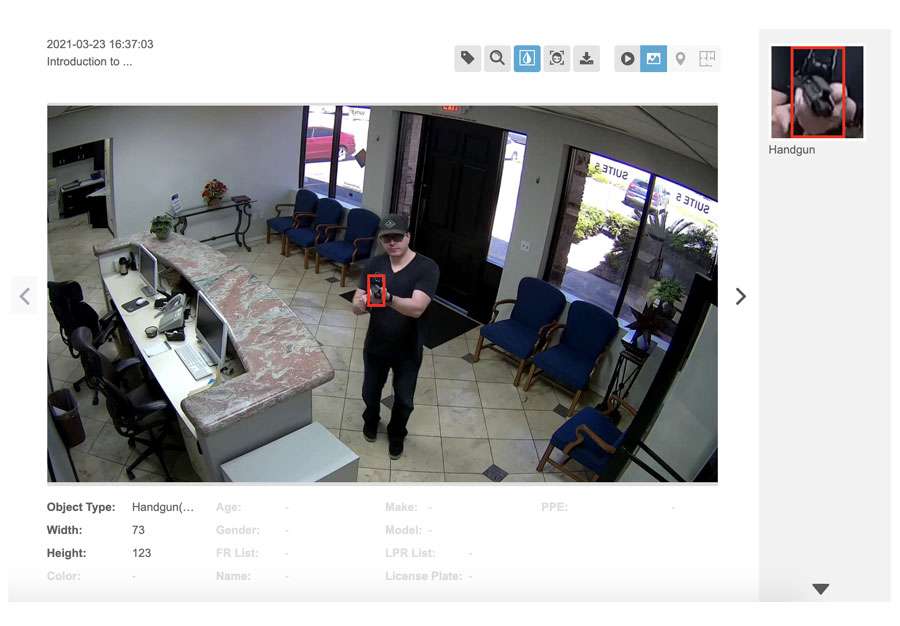 Detect handguns, shotguns, rifles, and machine guns that appear in the camera's field of view​
Provide critical video images to handle active shooter events in real time
Identify weapons in real time across multiple cameras (< 1 seconds)
Integrate with 3rd-party systems to trigger lockdowns upon detection
Detect smoke and fire in real time​
Receive alerts of detection instantaneously
Integrate with fire alarm systems to trigger alarm upon detection
Use in any size facility to maximize safety of students, employees and/or customers​
Use in conjunction with other AI analytics for complete safety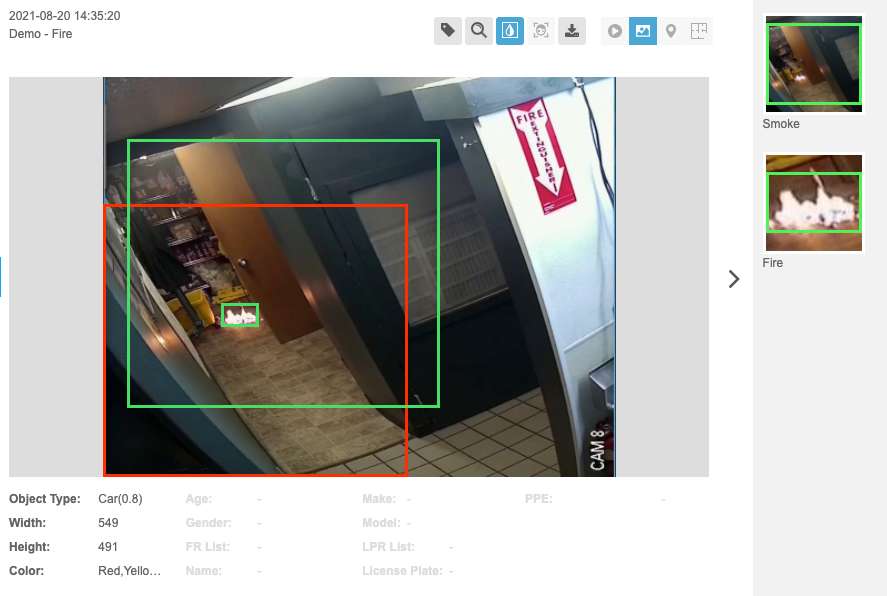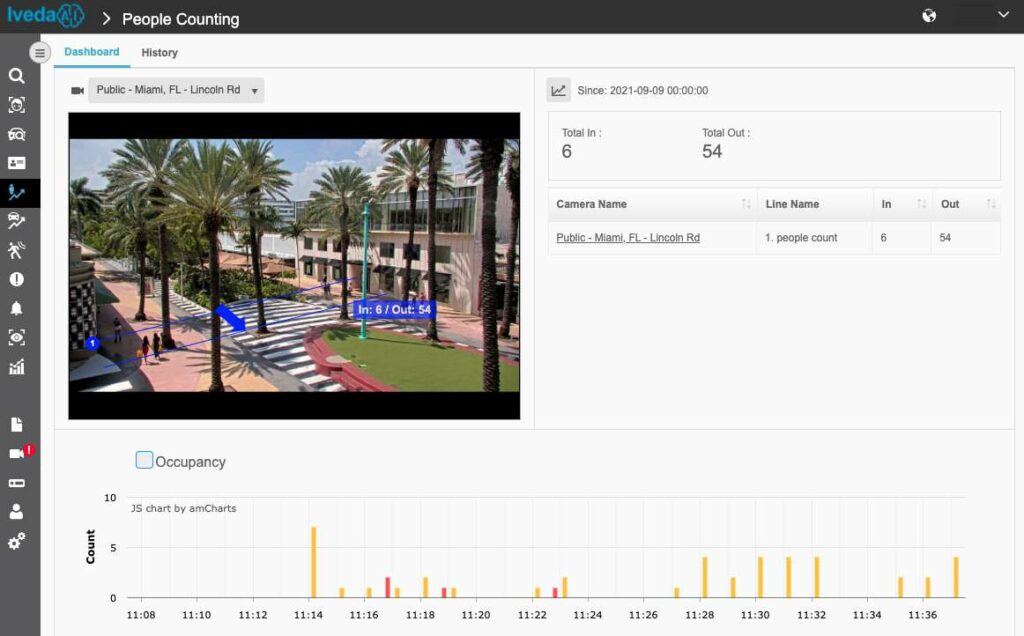 People Counting/Vehicle Counting
Count people and/or vehicle (multiple types) moving in various directions in real time
Enable user to define inbound vs. outbound direction for every counting line
Enable real-time alerts for abnormal events:


people/vehicle moving in the wrong direction
person falling/crouching
loitering
illegal parking

Support multiple counting lines per camera field of view
Provide statistics organized by camera, counting line, object type, time period
Provide business intelligence: peak hours, traffic flow, occupancy per unit time
Temperature detection and alert
Social distancing detection
PPE Detection (e.g., mask, hard hat
Occupancy/Over-capacity detection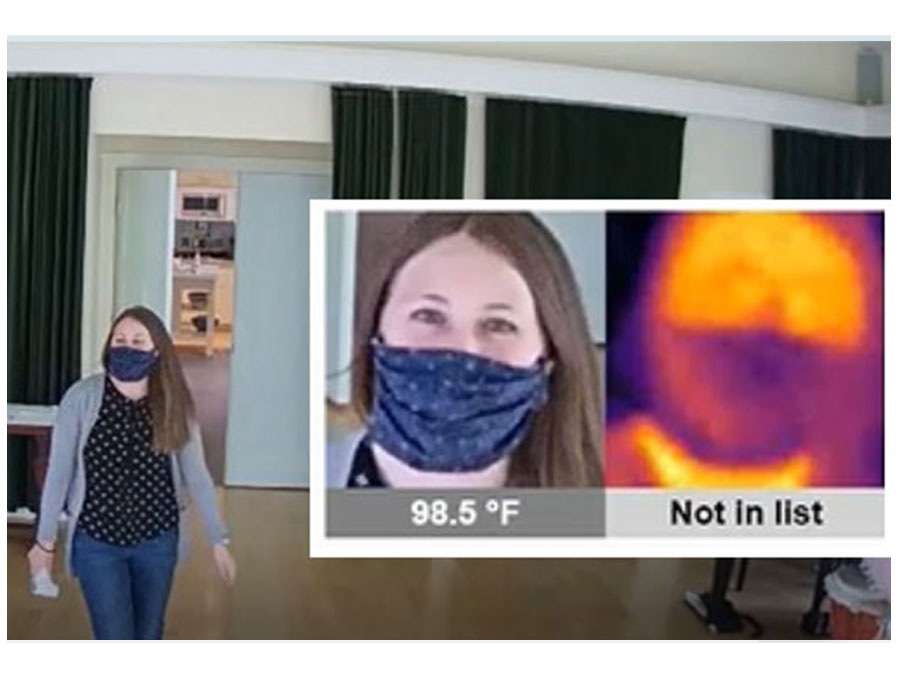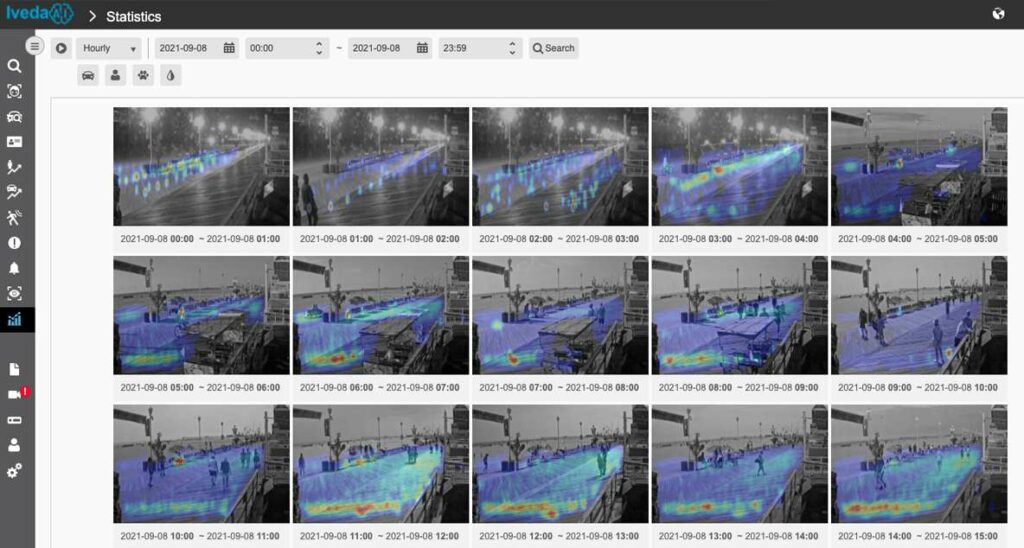 Generate heatmaps based on object detection
Show the frequency of appearance of the selected object types (e.g. car, person, animal)
Display statistics of gender and age groups
Display heatmap results by the hour or aggregated over 1 full day (24-hour period)
Send us an email at sales@iveda.com to ask about our free AI Software Program for Police Agencies
Real-time alerts based on object type, face recognition, license plate recognition, abnormal events, intrusion detectionShow detected event on a map based on camera location
Live Tracking – Provides the exact movement and route of the target person/object based on its location and the detected time
Live View – Provides viewing of multiple live cameras on the same screen. View live scenes on the map with exact camera locations
GDPR – Allows faces and license plates to be blurred for privacy. Redaction time is 10x faster than manual methods
Administration and System Management – Camera management, Activate and deactivate AI functions on individual cameras. SMTP notification configuration